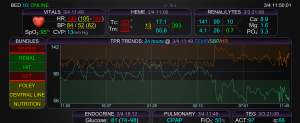 Decisio Health proudly announces that they have secured $4.5 Million in Second Round Funding. A venture portfolio company of Manti's, their continued success in the healthcare industry by efficiently electronically monitoring lives is incomparable.
Decisio Health, a healthcare software company that helps acute-care provider organizations continually improve their clinical processes, announced today that it has launched the Decisio Health Clinical Intelligence Platform. Based on technology developed at the University of Texas Health Center, the Decisio Clinical Intelligence Platform, which is a FDA 501(k) cleared Class II medical device, gathers and interprets data from existing hospital monitoring systems to provide the most current and valuable information in one easy-to-view location at the bedside.
To read more about this exciting press release, click here.